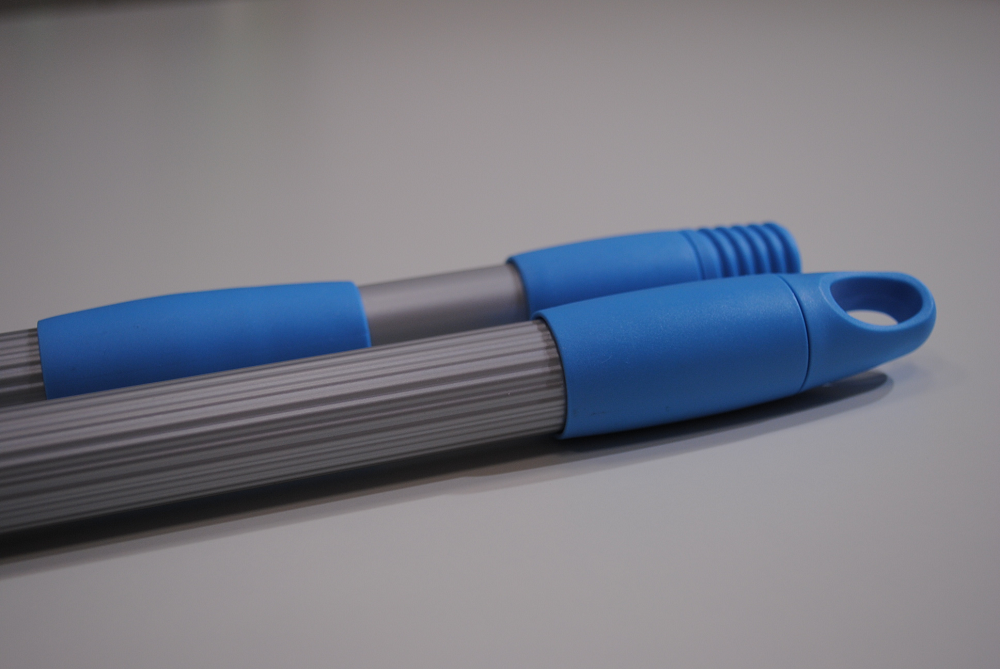 Telescopic handles can adjust the length and be locked in any position for the required purpose.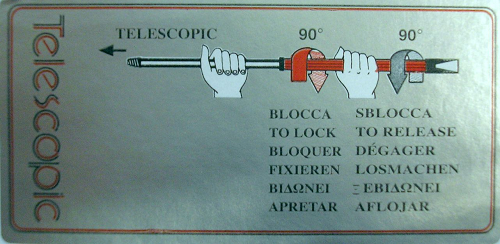 Locking is obtained by turning the internal tube: clockwise to lock, counterclockwise to unlock.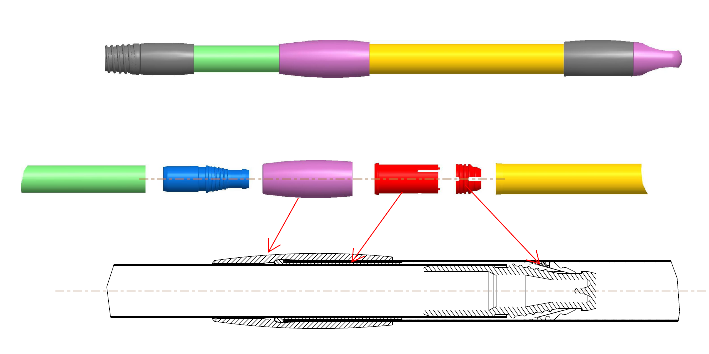 FIMM has an exclusive double-guide of the internal tube by one internal slide bushing and and additional external bushing, the locking system by a conic thread is strong and easy to operate.
The reduced length in closed position helps to store the tool after use and also in transportation and sale display.
FIMM produces telescopic in two sizes with tube diameters of 21/19mm (basic model) and 24/21mm (heavy or professional model). The style is the same for both sizes and the standard cap for all telescopic is the Rotary.
The options for coating are the same as for fix handles but for internal tube it can be only smooth or shiny.
The colors can be the same or different for the two tubes and harmonization with the colors of the cap, middle bushing and thread is recommended.
This is the table of standard lengths, any intermediate length can be made, by preference in increments of 100mm.
The thickness of the 2 tubes must be selected depending on the required strength and use. The optimal is to have the internal tube a little thicker than external in order to compensate the smaller diameter. To estimate the strength the same criteria as fixed handles are applicable considering the extended length and the diameter of the internal tube.
Standard lengths and thickness


Diameter (mm)

21/19

24/21

Length (cm)

Open

Close

Open

Close

120

71

130

77

130

76

140

82

140

81

150

87

150

86

180

102

180

101

200

112

200

111

300

162

Thickness (mm)

Internal tube

External tube

Internal tube

External tube

0,25
0,25
0,28
0,25
0,28
0,25

0,28

0,28

0,28

0,28

0,34
0,28
0,34
0,28

0,34

0,34

0,34

0,34

0,40
0,34
0,40
0,34
Cloth hanger

The telescopic handle can have the terminal for cloth hanging.
Cone for paint rollers

Telescopic handles are very appropriate for paint rollers. The conical connector can be supplied to be screwed on the handle.

On request handles and cones can be packed together in box of 12pcs.
FIMM keeps inventory of some popular telescopic handles to supply quickly also small quantities (starting from 1 pallet):
| | |
| --- | --- |
| FIMM001 | Telesc. handle Lenght open 200cm Lenght close 112cm-Outside Diameter 24 mm Lunghezza 103,2 cm Thickness 0.28 mm-Bright resin coat Red RO01-Rotary swivel cap 24 Black body NE00 Red top RO01-External bushing 24 Black NE01-Inside Diameter 21 mm Lunghezza 107,8 cm Thickness 0.34 mm-Bright eco resin coat Red RO01-External telescopic Italian thread 21 Black NE00-Polybags 10 pcs 2500 pcs/pallet |
| FIMM001A | Telesc. handle Lenght open 200cm Lenght close 112cm-Outside Diameter 24 mm Lunghezza 103,2 cm Thickness 0.28 mm-Bright resin coat Red RO01-Rotary swivel cap 24 Black body NE00 Red top RO01-External bushing 24 Black NE01-Inside Diameter 21 mm Lunghezza 107,8 cm Thickness 0.34 mm-Bright eco resin coat Red RO01-External telescopic Italian thread 21 Black NE00-Polybags 12 pcs 1200 pcs/pallet |
| FIMM002 | Telesc. handle Lenght open 300cm Lenght close 162cm-Outside Diameter 24 mm Length 153,2 cm Thickness 0.28 mm-Bright resin coat Red RO01-Rotary swivel cap 24 Black body NE00 Red top RO01-External bushing 24 Black NE01-Inside Diameter 21 mm Length 157,8 cm Thickness 0.34 mm-Bright eco resin coat Red RO01-External telescopic Italian thread 21 Black NE00-Polybags 10 pcs 1200 pcs/pallet |
| FIMM002A | Telesc. handle Lenght open 300cm Lenght close 162cm-Outside Diameter 24 mm Length 153,2 cm Thickness 0.28 mm-Bright resin coat Red RO01-Rotary swivel cap 24 Black body NE00 Red top RO01-External bushing 24 Black NE01-Inside Diameter 21 mm Length 157,8 cm Thickness 0.34 mm-Bright eco resin coat Red RO01-External telescopic Italian thread 21 Black NE00-Polybags 12 pcs 1200 pcs/pallet |
| FIMM003 | Telesc. handle Lenght open 300cm Lenght close 162cm-Outside Diameter 24 mm Length 153,2 cm Thickness 0.28 mm-Bright resin coat Silver AG01-Rotary swivel cap 24 Black body NE00 Silver top AG01-External bushing 24 Black NE01-Inside Diameter 21 mm Length 157,8 cm Thickness 0.34 mm-Bright eco resin coat Silver AG01-External telescopic Italian thread 21 Black NE00-Polybags 10 pcs 1200 pcs/pallet |
| FIMM003A | Telesc. handle Lenght open 300cm Lenght close 162cm-Outside Diameter 24 mm Length 153,2 cm Thickness 0.28 mm-Bright resin coat Silver AG01-Rotary swivel cap 24 Black body NE00 Silver top AG01-External bushing 24 Black NE01-Inside Diameter 21 mm Length 157,8 cm Thickness 0.34 mm-Bright eco resin coat Silver AG01-External telescopic Italian thread 21 Black NE00-Polybags 12 pcs 1200 pcs/pallet |
| FIMM006 | Telesc. handle Lenght open 150cm Lenght close 86cm-Outside Diameter 21 mm Length 77,6 cm Thickness 0.28 mm-Grooved heavy plastic coating Red RO01-Rotary swivel cap 21 body Black NE00 top Black NE00-External bushing 21 Black NE01-Inside Diameter 19 mm Lunghezza 82,2 cm Thickness 0.28 mm-Bright eco resin coat White BI01-Polybags 10 pcs 2100 pcs/pallet |
| FIMM007 | Telesc. handle Lenght open 150cm Lenght close 86cm-Outside Diameter 21 mm Length 77,6 cm Thickness 0.25 mm-Grooved heavy plastic coating Silver AG01-Rotary swivel cap 21 body Black NE00 top Black NE00-External bushing 21 Black NE01-Inside Diameter 19 mm Lunghezza 82,2 cm Thickness 0.25 mm-Bright eco resin coat White BI01-External telescopic Italian thread 19 Black NE00-Polybags 24 pcs 3000 pcs/pallet |
| FIMM008 | Telesc. handle Lenght open 150cm Lenght close 86cm-Outside Diameter 21 mm Length 77,6 cm Thickness 0.25 mm-Grooved heavy plastic coating Red RO01-Rotary swivel cap 21 body Black NE00 top Black NE00-External bushing 21 Black NE01-Inside Diameter 19 mm Lunghezza 82,2 cm Thickness 0.25 mm-Bright eco resin coat White BI01-External telescopic Italian thread 19 Black NE00-Polybags 24 pcs 3000 pcs/pallet |
| FIMM009 | Telesc. handle Lenght open 130cm Lenght close 76cm-Outside Diameter 21 mm Length 67,6 cm Thickness 0.34 mm-Grooved heavy plastic coating Red RO01-Rotary swivel cap 21 body Black NE00 top Black NE00-External bushing 21 Black NE01-Inside Diameter 19 mm Length 72,2 cm Thickness 0.34 mm-Bright eco resin coat White BI01-External telescopic Italian thread 19 Black NE00-Polybags 24 pcs 3000 pcs/pallet |
| FIMM011 | Telesc. handle Lenght open 130cm Lenght close 76cm-Outside Diameter 24 mm Length 66.3 cm Thickness 0.28 mm-Bright resin coat Gray GR07-Internal Italian thread 24 Black NE00-External bushing 24 Gray GR07-Inside Diameter 21 mm Length 74 cm Thickness 0.34 mm-Bright eco resin coat Gray GR07-Swivel Full Grey body GR07 Grey top GR07-Polybags 12 pcs |
| FIMM012 | Telesc. handle Lenght open 200cm Lenght close 111cm-Outside Diameter 21 mm Lunghezza 102,6 cm Thickness 0.28 mm-Grooved heavy plastic coating Red RO01-Rotary swivel cap 21 body Black NE00 top Black NE00-External bushing 21 Black NE01-Inside Diameter 19 mm Lunghezza 107,2 cm Thickness 0.28 mm-Bright eco resin coat White BI01-External telescopic Italian thread 19 Black NE00-Polybags 10 pcs 2020 pcs/pallet |