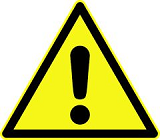 The handle is never used for itself but is always attached to a tool. FIMM produces handles to specification of the customer who is responsible for selecting the most appropriate handle for the tool and the designated application. Not having control on those factors FIMM can never be considered responsible for wrong selection or inappropriate use of the product and their consequences.
Who puts a finished product on the market is responsible for its compliance to the rules of the country, for its suitability for the purpose and for properly informing the final consumer.
The break resistance of the tube is the most important factor for the safety because it is unavoidable that a tube breaking originates sharp edges that may injure the user.
FIMM provides technical data helpful for a correct selection of the diameter and wall thickness of the tube according to the kind of final product, the length of the handle and its purpose; however the final choice is always made by the customer based on its specific knowledge.
Other factors of danger are the separation of the cap or thread so leaving unprotected the tube end that is sharp being the wall thickness so thin. FIMM applies the best technologies like the thermal fusion and tube crimping to obtain a safe fastening of terminals.
Following these reccomendations assures high safety in a normal use and a typical life of 2 years.
Inappropriate or excessively prolonged use can frustrate even a careful selection, it is obvious that any product or structure cannot resist above certain limit. Being all this out if its contol, FIMM declines any responsibility at this respect.